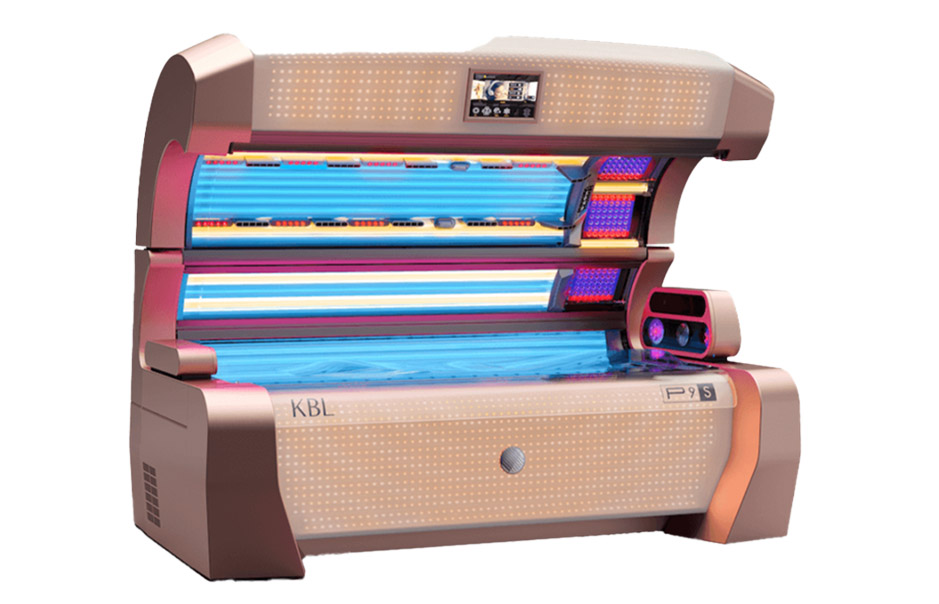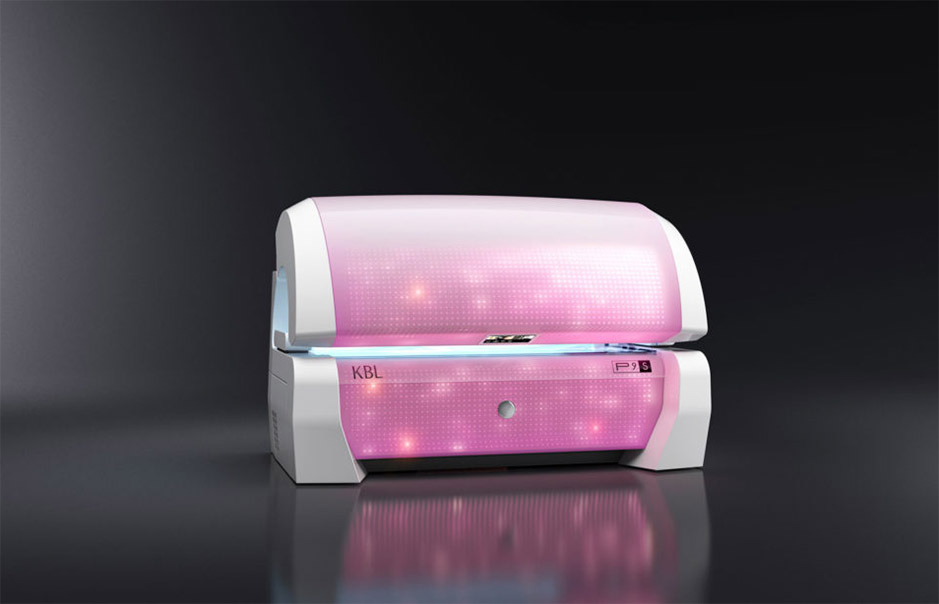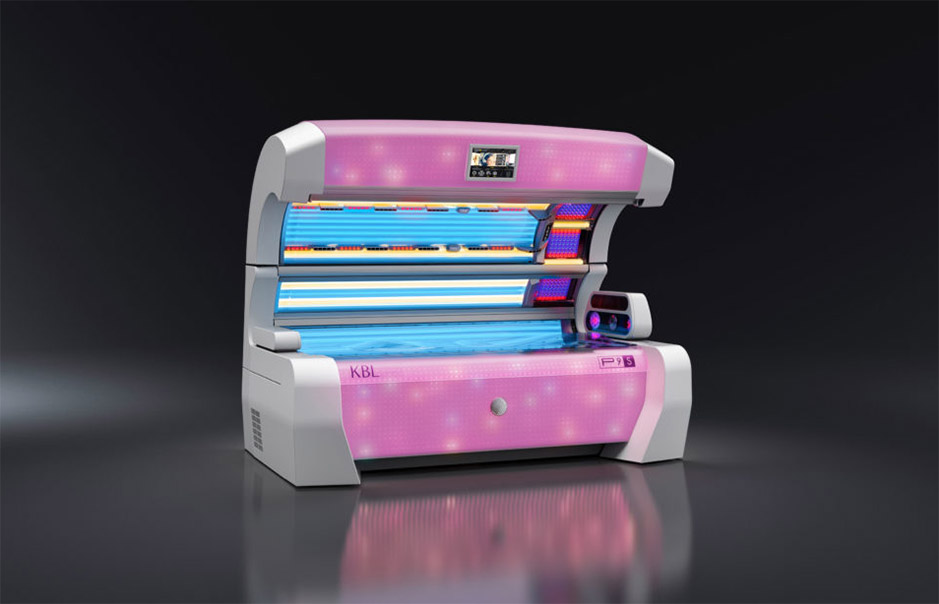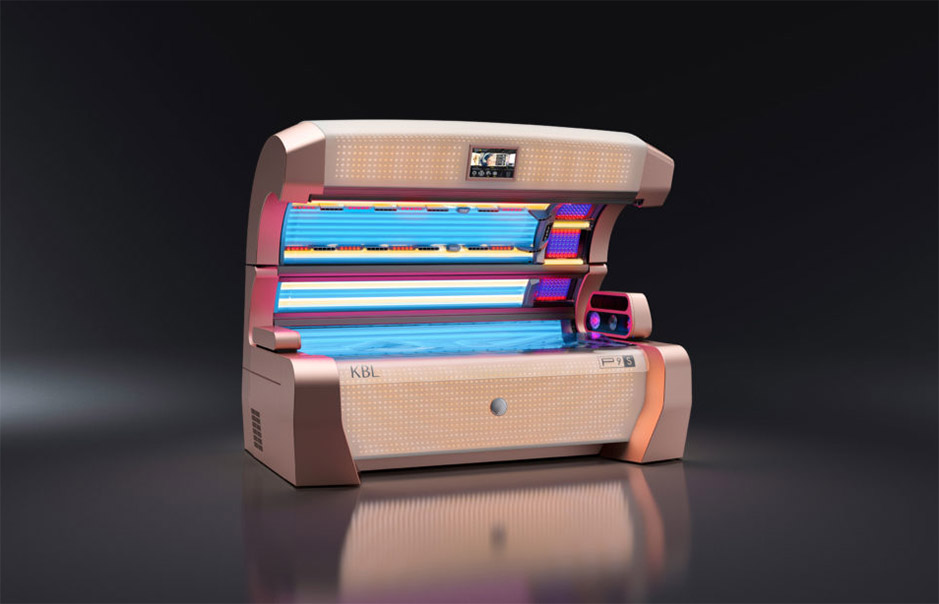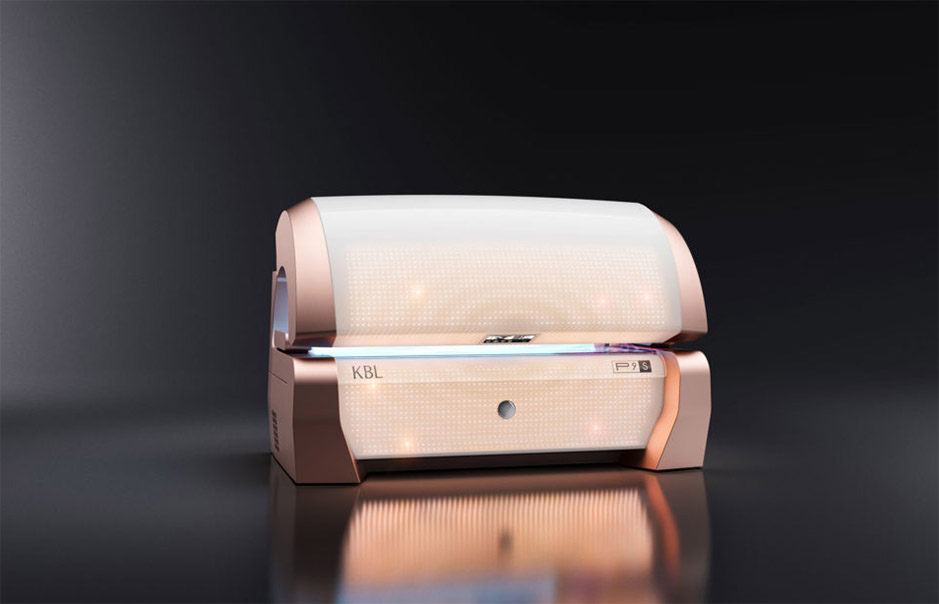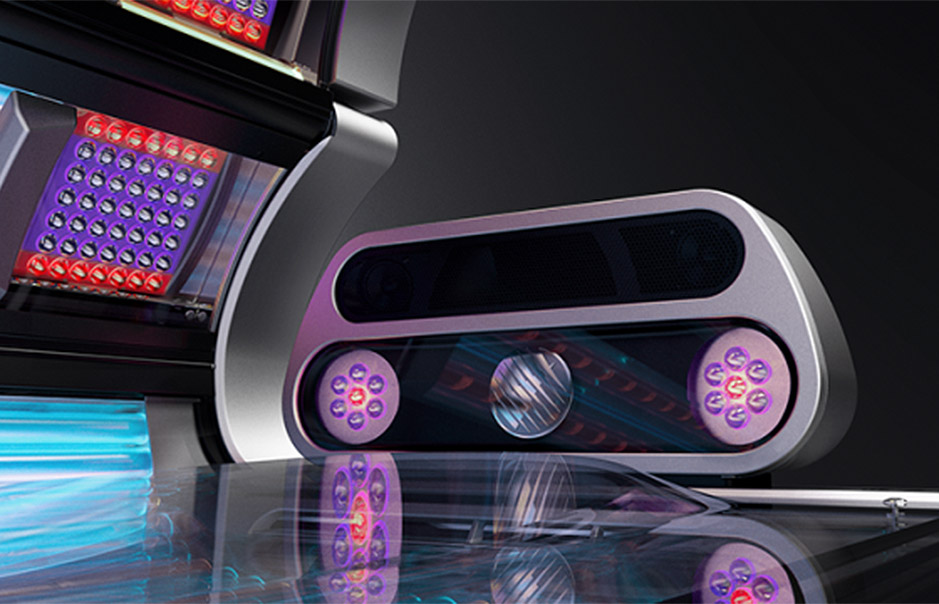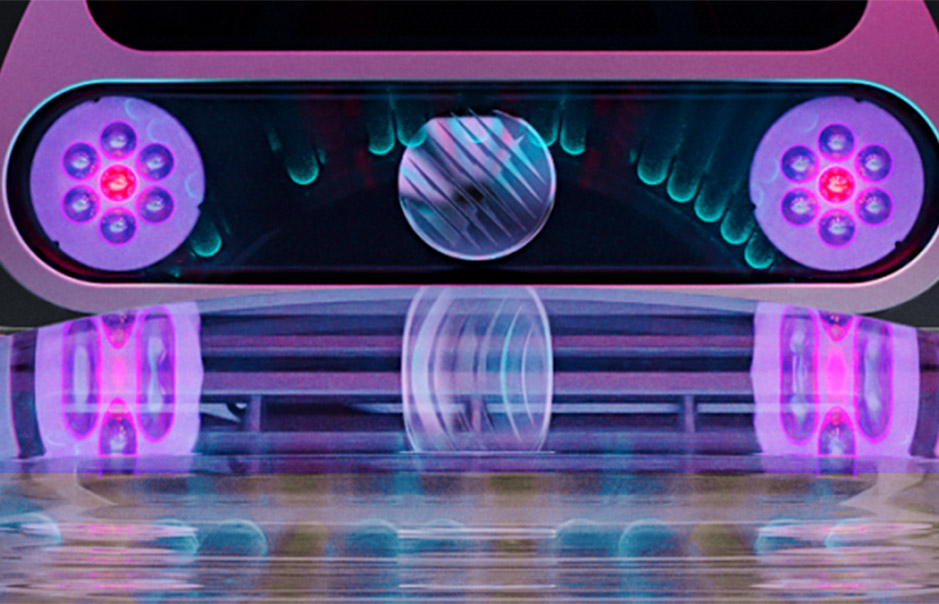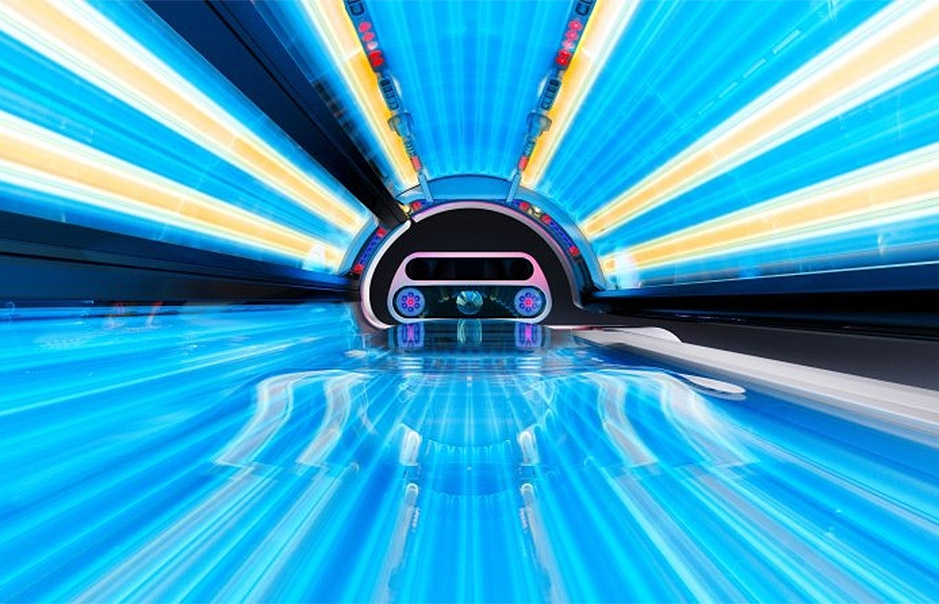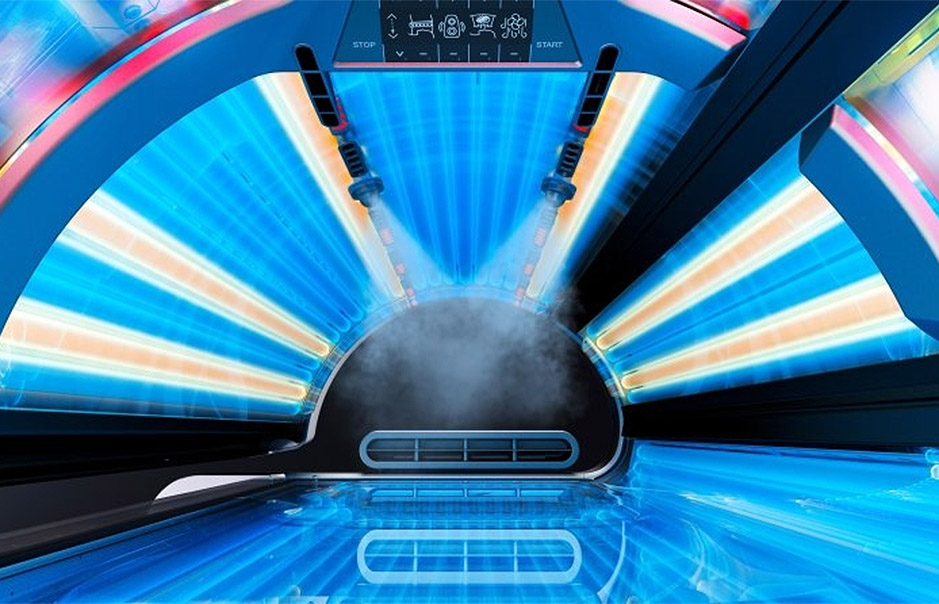 KBL P9S extraSun
A Quantum Leap In UV-Technology
The P9S Series, including the P9S extraSun is a breakthrough with SunSphere LED tanning technology. SunSphere Facials consist of 4 cassettes, 5 blue UVA LED strips (35 individual LEDs), 2 red Beauty LED strips (14 individual LEDs) each and 3 yellow UVB special lamps for a total of 199 LEDs. SunSphere Shoulders consist of 2 cassettes, each with 6 blue individual LEDs and 1 red individual Beauty LED for a total of 14 LEDs. The SunSphere System offers a consistently high LED output, makes high pressure bulb changes unnecessary and drastically reduces your power consumption. The perfect spectral combination for an incomparable tanning experience.
Striking Optics: Solarium design in the footsteps of the legendary Porsche 911. The design icon as envisioned by Ferdinand Alexander Porsche continues to fascinate people all over the world to this day. And thus the Studio F. A. Porsche was the ideal candidate for our ambitious P9 design project. The result: a unique design that captivates your customers. The 'Magic Silver' chassis color fascinates with a variety of selectable light show programs.
Radiant Appearance: The right choice for all studio concepts: with the 'Wonder White' chassis color, the P9S is a real highlight in every spa atmosphere with color-coordinated light animations that fascinate customers over and over again.
Trendsetter: The rose gold color isn't just trendy for design icons like the smart phones. The characteristic copper shade communicates straightaway the premium aspiration of the P9S along with its color-coordinated light animations. And because two thirds of all solarium users are female, it's no surprise that our new 'Copper Rose' chassis color is the clear favorite of this target group in market research studies.
UV Variants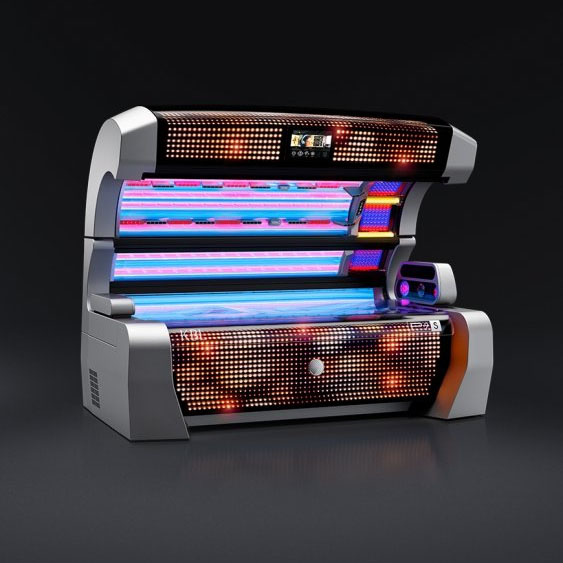 P9S hybridSun
The new P9S hybridSun is the power-house of this series. With the highest performing combination of pureSunlight and smartSunlight for an especially satisfying tanning result.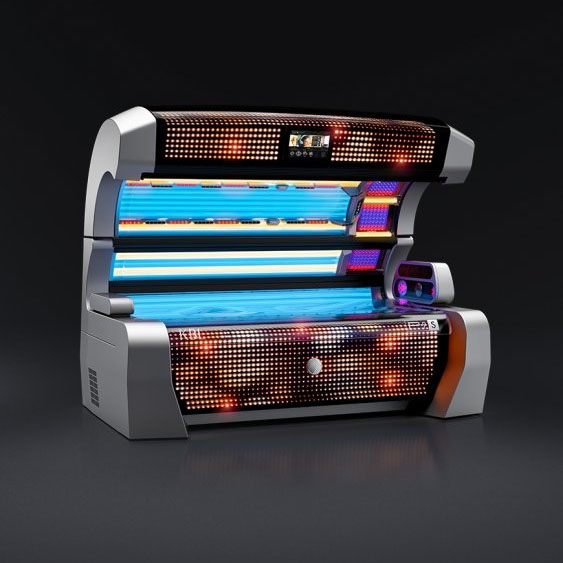 The new P9S extraSun: Intensive sun-light with an extra-high percentage of UVB for increased pigment build-up. Enabled by the one-of-a-kind extra-Sunlight lamps.
All Features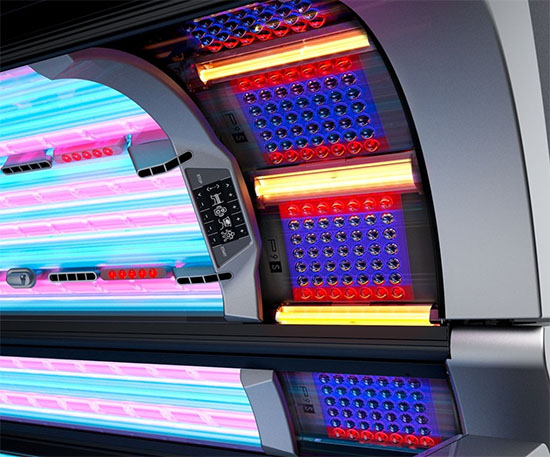 The perfect spectral combination for face and décolleté homogeneously distributed via aspherical glass lenses.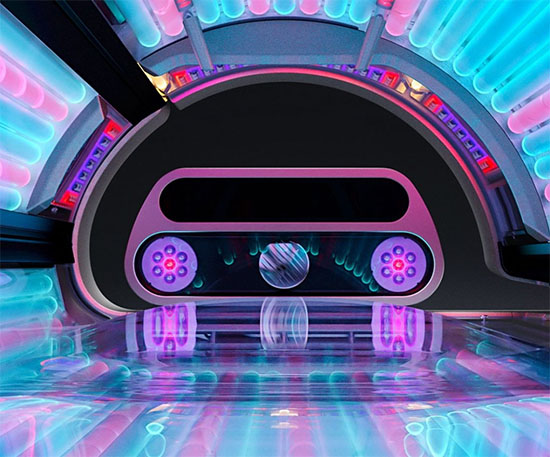 High-performance LEDs and aspherical glass lenses with a spectral combination that guarantees a beautiful complexion.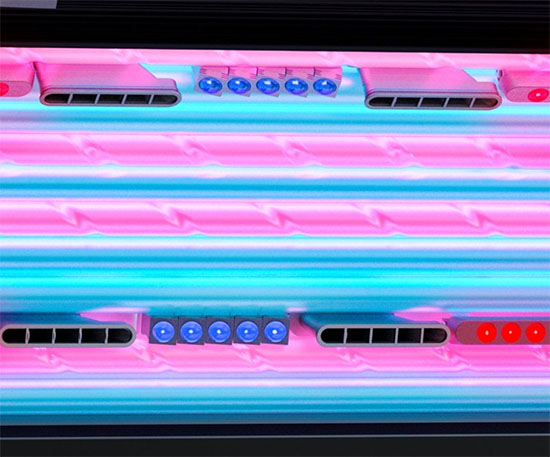 Two groups, each with five angled UVA LEDs and aspherical glass lenses, guarantee excellent tanning results.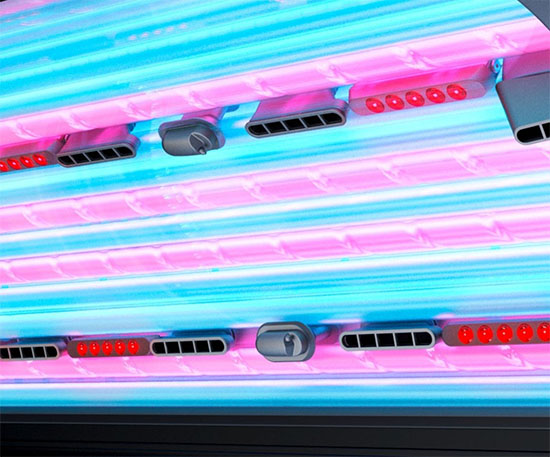 Extra-intensive beauty light for beautiful skin and a soothing feeling.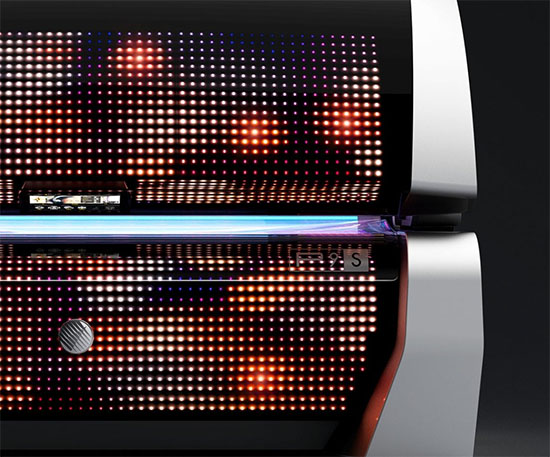 Over 2.400 special LEDs for extraordinary light animations in shape and color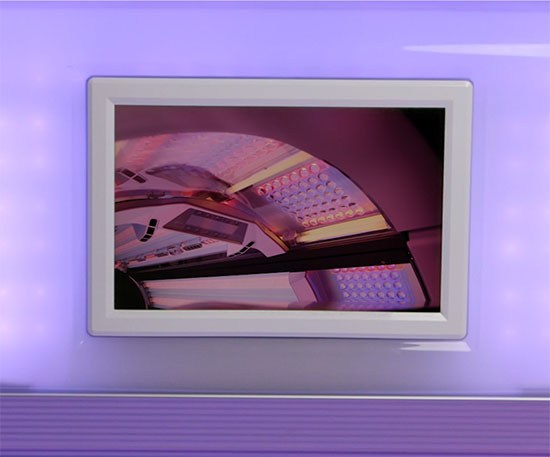 Play individual video-clips as a tutorial for the comfort features or a commercial.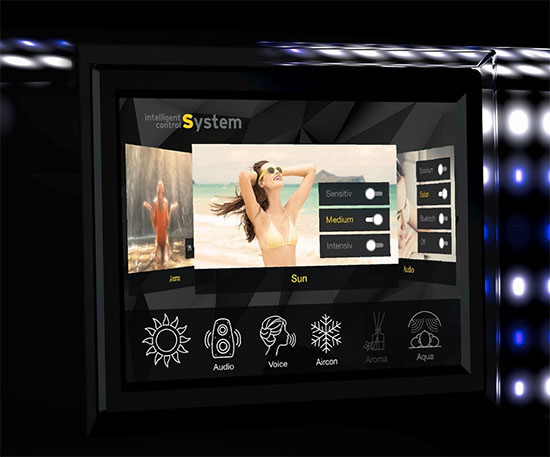 Intelligent Control System
Intuitive function control for customers before the tanning session. Easy access to maintenance and service settings for operators.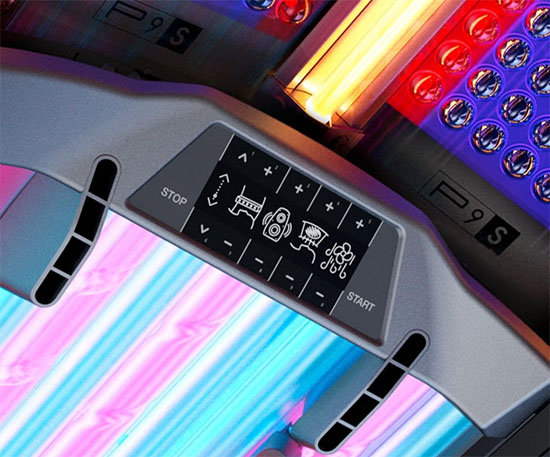 Easy-to-use operation of all key functions during the tanning session. Clearly structured and intuitive.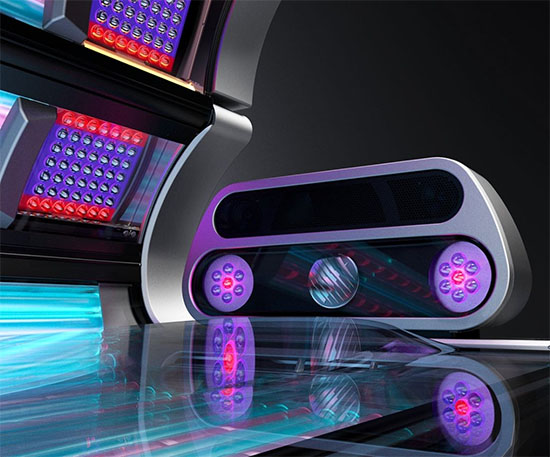 A pleasant voice guides quickly and easily through the solarium's operating functions. Wellbeing is guaranteed right until it's time to say goodbye.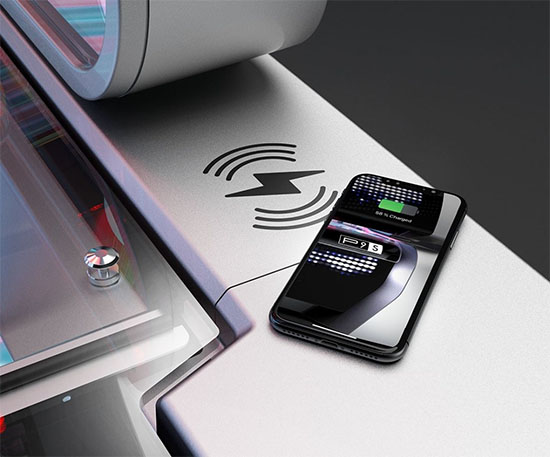 Simple, wireless charging of all suitable smartphones during tanning sessions.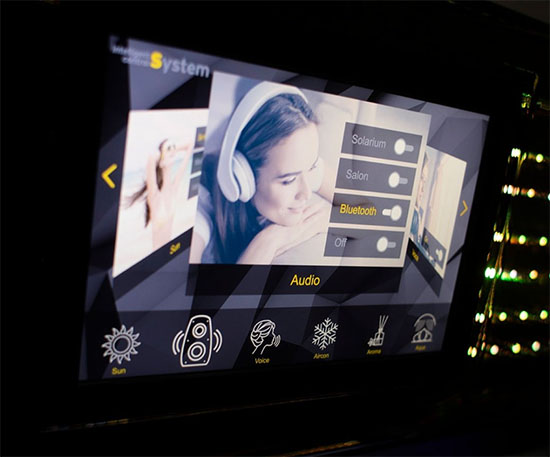 Simply connect the smartphone with the solarium via Bluetooth. And listen to a personal playlist while tanning.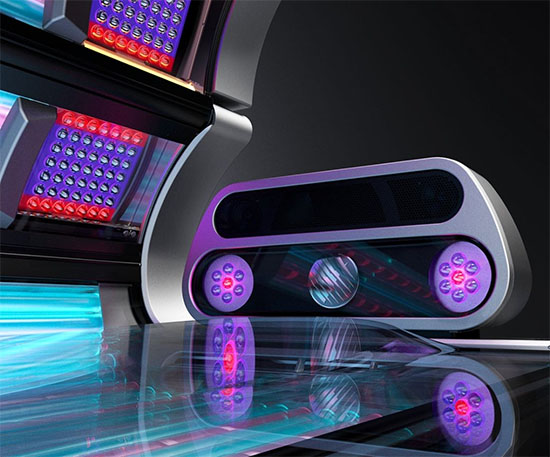 The sound system for an excellent sound experience. Enjoy your own tunes via Bluetooth.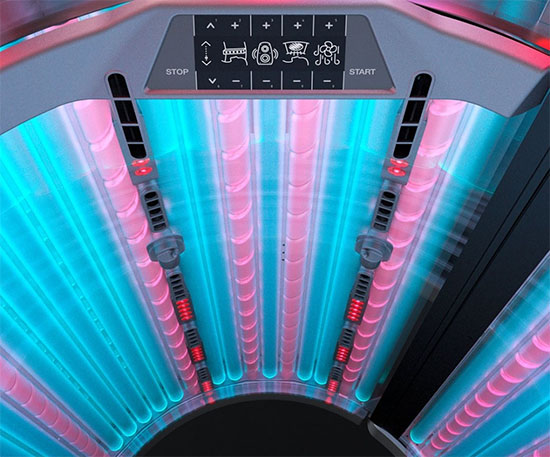 The high-performance air conditioner guarantees a pleasant cooling sensation during the tanning session.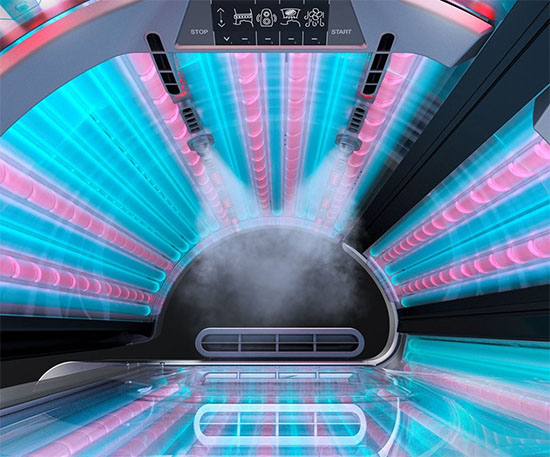 Refreshing and revitalizing water mist from two special, drip-free jets.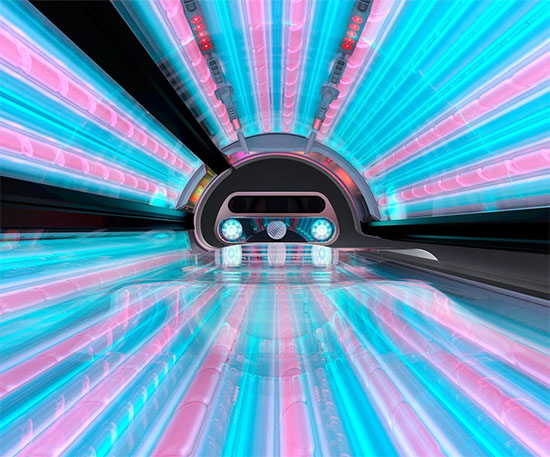 The air can be aromatized during tanning on request.
Attention to detail
Particularly for an extra-beautiful tan of insteps and shins, the P9S uses special SunSphere components as a world first. Two groups, each with five angled UVA LEDs and aspherical glass lenses, guarantee excellent tanning results.

PRODUCT DIMENSIONS - L 95" x D 59" x H 77"
NUMBER OF LAMPS - 300
POWER - 3 phase
RECOMMENDED ROOM SIZE - 10' x 10'
WEIGHT - 1,477 lbs
AMPERAGE - 40 amp
EXPOSURE TIME - 10 min
VOLTAGE - 230v
FACE - 4 SunSphere LED Cassettes (Each with: 35 blue UVA LEDs, 14 red Beauty individual LEDs / 3 extraSunlight 8w)
CANOPY - 16 200w pureSunlight / 4 200w extraSunlight
BENCH - 24 200w pureSunlight
SIDE - 4 200w pureSunlight / 2 200w smartSunlight
SHOULDER - 2 SunSphere LED Cassettes (Each with: 6 blue UVA LEDs, 1 red Beauty LED)
BEAUTYBOOSTER - 40 LEDs (Canopy)